NEWS
NEWS
14.01.2019 GFREIDAY & Ideen/Ideas
Ab Jänner 2019 gibt es die GFREIDAY Videos nur noch 1x pro Monat. Ich habe noch weitere Ideen, für die ich auch Zeit brauche. Stay tuned …
From January 2019 there is ony ony GFREIDAY video per month. I have other ideas and need time for new stuff, Stay tuned …
---
18.12.2018 DJ(ane) DEWA & Hut Ab! Kabarett Kollektiv mit/with Lunar Confusion
Ab Jänner 2019 bin ich Teil des Kabarett Kollektivs Hut Ab! mit Showband Lunar Confusion im Area! Ich werde vor und nach der Show ein kurzes DJ(ane) Set spielen und freue mich schon sehr.
From January 2019  I am part of Hut Ab! Kabarett Kollektiv with Showband Lunar Confusion at Area! Looking very much forward to it.
Let the good times roll!:)
---
20.05.2018 Yippie Hippie Yeah:)
Ich habe einen Übersetzungspreis gewonnen!
I've won a translation prize!
Yeah: Susanne Roth Übersetzungspreis
---
24.04.2018 Bye, Bye Facebook! Hello new Website!
Die Nadia Baha Facebook Fanseite ist gelöscht! Tschüss, Herr Zuckerberg! Sie sind kein Freund!
The Nadia Baha Facebook Fansite is deleted! Take this, Mark Suckerberg! You've never been a friend!
Nach einem Relaunch gibt es nun eine neue Website! Vielen herzlichen Dank an Dusty, der die Website gerettet hat! 🙂
After a relaunch there is a new website! Thanks a million to Dusty, who saved the website! 🙂
---
02.10.2017 LIVING ROOM RIOTS
Juhu! Es gibt ein neues Projekt!
Babl Joachim und Nadia Baha sind die LIVING ROOM RIOTS.
Yeah! There is a new project!
Babl Joachim and Nadia Baha are the LIVING ROOM RIOTS.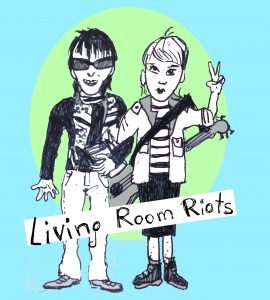 Artwork: Babl Joachim
Wir sehen und hören uns bald!
See and hear youse soon!
Stay tuned & celebrate life!
---
01.06.2017 DJ(ane) DEWA is back this summer!
Nach langer Zeit bin ich als DJ(ane) DEWA wieder aktiv!
After a long time DJ(ane) DEWA is back!
Diesen Sommer 2x bei den Platzkonzerten im WUK!
This summer 2x at the Platzkonzerte at WUK!
See you there!
---
05.01.2017 Gfreiday:)
Alle zwei Wochen – am Freitag – ein neues Video!
Every other week – on a Friday – a new video!
Seid gespannt!
Watch out for more!
---
03.07.2016 Facebook Fansite
Besucht meine Fanseite – wenn ihr wollt!
Say hello on my Fansite – if you want!
Danke/thanks! 🙂
Facebook Fansite: https://www.facebook.com/KabarettSatireBaha
---
08.01.2016 "Lesen und lesen lassen" Premiere
Am 08.01.2016 feiere ich mit meinem Programm "Lesen und lesen lassen" Premiere im Theater am Alsergrund.
Save the date: 08.01.2016 – Premiere "Lesen und lesen lassen" at Theater am Alsergrund.
Info: http://www.alsergrund.com
---
02.12.2015 "Open House" 🙂
Hab das "Open House" am Theater am Alsergrund gewonnen. Juhu!:)
Won the "Open House" at Theater am Alsergrund. Yeah!:)
---
09.10.2014 Website online
Website = online!:)