SATIRE, LITERATUR,MUSIK
SATIRE, LITERATURE, MUSIC
Underground (2019)
*Satire*Kabarett* Whatever*
*Satire*Comedy*Whatever*
Das Leben ist ein Witz.
Ein Einziger.
Wir sind alle dabei.
Willkommen im Club!
Premiere: 16.11.2019
---
Viel Neues Dabei (2018)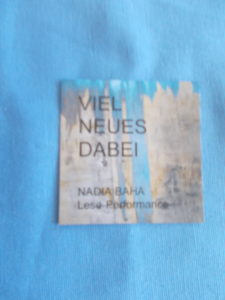 Lese – Performance/Reading – Performance
Premiere: 15.09.2018
---
Call this Music?! (Coming soon. Or not.)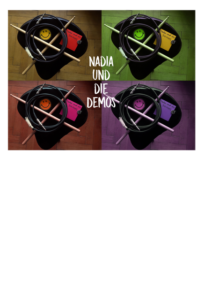 It started a long time ago. With music. Always.
2017, Nadia & die Demos were formed. Our song " Die Revolte is a Vogerl", didn't make it to the Fm4 Protestsongcontest. But hey, no probs!
I am here. I will stay. Don't know how. Let's hear!
Premiere: ?
---
Lesen und lesen lassen (2015)
Satirisches Kabarett zwischen den Zeilen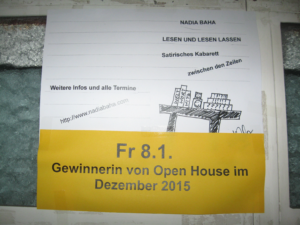 Eine Schwäche fürs Denken.
Gedanken zum Heutzulesen.
Ein Hang zum Lesen.
Ideen zum Morgenzuleben.
Irgendwo zwischen Poesie und Politik.
Feinziselierte Brachiallyrik meets schräg intonierte Bronchialchansons.
(Naja, vielleicht doch nicht.)
Ein nervender Kabarett – Coach, ein digitaler download Irrtum und die Frage, wie das Leben im Lesen aussieht.
Aber: Gibt es ein Leben nach dem Lesen?
Ein Abend so mit Worten und so …
Premiere: 08.01.2016