MUSIK PROJEKTE
MUSIC PROJECTS
Mit den LIVING ROOM RIOTS hat's begonnen.
It started with the LIVING ROOM RIOTS.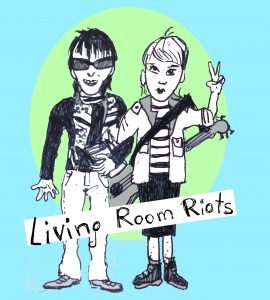 Artwork by Babl Joachim
Ihre Songs und Texte atmen Punk-Spirit und Riot-Attitude.
Peace, Love & Rock'n'Roll sind ihr Credo!
Sie sind der Totalschaden der Gemütlichkeit im Reisswolf der Gewohnheiten.
Die Hausschlapfen salonfähig gemacht, und auf der Häkeldecke das Bier.
Im Wohnzimmer waren sie lang genug, jetzt trauen sie sich gemeinsam raus!
In einem lyrisch-musikalischen Ping-Pong, spielen sie sich gegenseitig mit Herzblut und Hingabe den Ball zu.
Alles gut verpackt in angenehmer Wohnzimmerlautstärke.
"Schau ich so aus, wie jemand, den das interessieren würde?"
(Der Hausstaub)
Nadia Baha, Babl Joachim und Tom Gartler kommen direkt aus ihrem Wohnzimmer zu euch.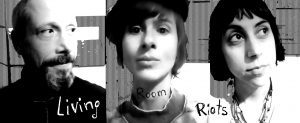 Pic by Babl Joachim
Music, Words, Punk-Attitude.
Living room atmosphere
Join the riot in your slippers!
 Words by Babl Joachim and Nadia Baha
---
NADIA UND DIE DEMOS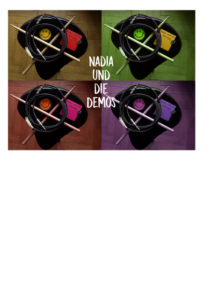 2017, Nadia & die Demos were formed. Our song " Die Revolte is a Vogerl", didn't make it to the Fm4 Protestsongcontest. But hey, no probs!
I am here. I will stay. Don't know how. Let's hear!
Artwork by Raphael Haider & Nadia Baha
---
Es geht weiter. Wie und wo auch immer …
To be continued. In on or the other way…